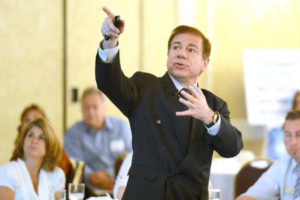 MIKE BLINDER is the Publisher of  Editor & Publisher Magazine (E&P) and CEO (Chief Evangelist Officer) of its parent company, The Curated Experiences Group. E&P has served as the authoritative voice of the news publishing industry for over 140-years. He is also the author of "Survival Selling," a popular (media-based) B2B (business-to-business) sales guide.
Mike has been in love with media his entire life. In high school, he worked part-time as an intern at WPEN radio in Philadelphia and at Radio Shack, where he sold the 1st generation of home computers.
While attending George Washington University, he held a full-time job as a DC Deejay, becoming a station manager within five years. From radio, Mike moved to TV and eventually print, starting one of the 1st digital newspapers in the United States where the Newspaper Association of America nominated him as a "Digital Pioneer." Before taking over E&P Magazine, Mike spent 20 years as founding manager of one of the world's most respected media consulting firms, The Blinder Group. In addition, Mike personally trained over 10,000 media sales teams to adapt to digital revenue concepts and solutions. Mike was best known for his SMB (small/ medium-sized business) marketing training sessions throughout those years. He brought his life-long learning and love of media together in entertaining and engaging classes to cities and towns worldwide. Over 100,000 business leaders have attended his sessions on using all forms of media more effectively to guarantee maximum results.
Mike has won numerous media awards, is past president and board member for several media/marketing associations and has been a sought-after speaker at conferences worldwide. He lives in Tampa Bay, Florida, with his wife and business partner, Robin and daughter, Haven.
Download Mike Blinder's bio
Access Mike Blinder's pics.
Twitter feed is not available at the moment.